DHS issues environmental waivers for 65 miles of border wall in South Texas
McALLEN, Texas (Border Report) — Environmentalists and local leaders in South Texas were furious after learning Thursday that the Department of Homeland Security has waived environmental regulations in three counties in order to expedite construction of 65 new border wall.
DHS on Thursday announced that it had issued a waiver to hasten new border wall construction in the counties of Hidalgo, Starr and Cameron. The waiver was published in the Federal Registry on Thursday, and "will ensure expeditious construction of approximately 65 miles of new border wall system within U.S. Border Patrol's (USBP) Rio Grande Valley Sector," U.S. Customs and Border Protection said in a news release.
"President Trump continues to blatantly misappropriate government funds, ignore the pleas of Texas landowners and seize land like a medieval feudal lord," U.S. Rep. Vicente Gonzalez, a Democrat whose district includes Hidalgo County, said in a news release.
Scott Nicol, who is on the executive committee of the Lower Rio Grande Valley Sierra Club told Border Report that "waiving laws is a clear admission that Trump's border wall will violate those laws."
The waivers will allow construction to begin despite environmental regulations that protect endangered species, and laws pertaining to the Safe Drinking Water Act.
Nicol, who also is co-chairman of the Borderlands committee, added: "There is no reason to waive the Safe Drinking Water Act unless their plans will threaten our drinking water. They are waiving the Endangered Species Act because they know that border walls will push endangered species closer to extinction."
Jonathan Salinas of the No Border Wall coalition called the waivers "a hit-list," to South Texas.
"Today's waivers are but another reminder that in the name of national security all things are possible, including wholesale disregard for the human and environmental rights of border residents. These waivers virtually cover the whole of the Lower Río Grande Valley not yet waived, including wildlife refuge tracts which are intended to protect and preserve that which the government is now intending to destroy," said Salinas, who also serves on the executive committee of the Lower Rio Grande Valley Sierra Club.
Some areas will be exempt from border wall construction in South Texas, including: Santa Ana National Wildlife Refuge, La Lomita Historical Park, Bentsen-Rio Grande Valley State Park, within or east of the Vista del Mar Ranch tract of the Lower Rio Grande Valley National Wildlife Refuge, or the National Butterfly Center, DHS said. This is because Congress refused to fund border wall construction if those areas were included.
At question is still whether a one-third mile section of Santa Ana National Wildlife Refuge, in Alamo, Texas, will be exempt from construction. This section had been purchased by Santa Ana from private landowners and appears to be on border wall construction plans released by CBP.
This is not the first time the Trump Administration has waived environmental regulations in order to build new border wall miles on the Southwest border. And as the 2020 presidential election nears, President Donald Trump has increasingly boasted on Twitter with regularity about the number of border wall miles already built, under construction and about to begin.
CBP said the waivers were needed to quickly fill in gaps in the existing border wall because the Rio Grande Sector accounts for 40 percent of all migrant apprehensions in the nation, and ranks No. 1 for seizure of cocaine and marijuana on the Southwest border.
Said Rep. Gonzalez: "We do need to secure our border and crack down on criminal activities. But that is done best by engaging with our Mexican and Central American neighbors to address the violence and economic opportunity in their countries and investing in technology and human capital — not building a frivolous border wall."
The cost for the 65 miles of new border wall in the three counties could total $811 million, CBP has said.
The waivers come just as 300 National Guard troops have arrived in the region to help patrol the existing border wall and new construction areas, U.S. Border Patrol told Border Report. The National Guard troops will relieve U.S. Army soldiers.
Many residents in South Texas are angry by what they call a "militarized" presence. Read a previous Border Report story on the 'militarization' of the region.
"We call on the U.S. Congress to repeal this waiver authority which allows the executive branch to legally commit crimes against humanity," Salinas said.
Trending Now on We Build the Wall News
This Former Undocumented Immigrant Is Running For Congress — and She's All For Trump's Wall
A young Republican with almost zero political experience is running for Congress in Michigan — and she's using her status as a former undocumented immigrant to argue in favor of Donald Trump's immigration agenda.
"I was brought to America from Taiwan as a 10-year-old girl without knowing a word of English," Whittney Williams says in a campaign ad, as she aims to unseat a Democrat who flipped the district in last fall's midterms. "My family overstayed their visas, and as a result, I spent the next 16 years living in the shadows as an illegal immigrant."
Williams' stance on immigration may seem unusual given her background: Her family entered the U.S. using tourist visas in 1992 and stayed after their visas expired. Williams managed to obtain citizenship in 2013, four years after getting married.
In an interview with MLive, Williams said she grew up afraid that any minor infraction could lead to her deportation: "If someone knew (about your immigration status), if you told somebody, they could take advantage of you. It's a constant fear. And you're constantly told, 'Oh, you're an illegal immigrant,' not, you know, human. That takes a toll on you as you hear that constantly."
Despite this, Williams, 36, said she supports Trump's immigration policies and said building a wall along the U.S.-Mexico border would help "stop the flow" of migrants.
"When you look at a problem, of course, you want to stop it first, so you can resolve what's in here, because if you keep having this flow … this number here is just going to get bigger and bigger," she told MLive.
In her campaign ad, Williams claims Democrats don't care about immigrants like her. "Politicians knew of us: They called us 'Dreamers,' and quite frankly, used us as political props for their own personal gain," she says.
Williams, who currently serves as the director of diversity of the 11th Congressional District Republican Committee, is hoping to unseat Haley Stevens, a Democrat who flipped the district during last year's midterms.
Why some say Mexico already built Trump's wall — and paid for it
Mexico City (CNN) The commander paces in front of a line of troops, preparing them for the day's mission.
"We are in our country. We are in 
Mexico
. We are enforcing our laws," he says, his voice getting louder with each point he makes.
"Nobody is going to come here to trample on our laws," he continues. "Nobody is going come here to trample on our country, on our land."
Mexico City (CNN)The commander paces in front of a line of troops, preparing them for the day's mission.
"We are in our country. We are in 
Mexico
. We are enforcing our laws," he says, his voice getting louder with each point he makes.
"Nobody is going to come here to trample on our laws," he continues. "Nobody is going come here to trample on our country, on our land."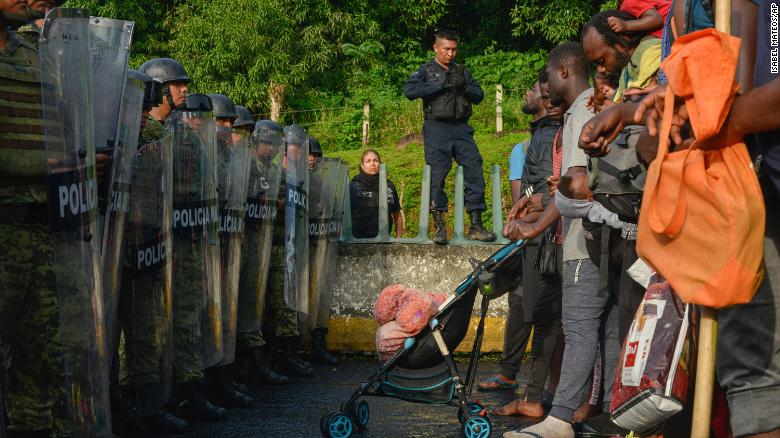 Trump: 'Mexico is showing us great respect'
But experts note that Mexico's massive deployment of National Guard troops over the past few months has played a major role in blocking migrants from reaching the US border in the first place.
"I would like to thank President López Obrador of Mexico for the great cooperation we are receiving, and for right now putting 27,000 troops on our southern border," 
Trump told the United Nations General Assembly last month
. "Mexico is showing us great respect, and I respect them in return."
A few days later, Trump told reporters he was "using Mexico to protect our border" because Democrats weren't doing enough to fix the immigration system.
And last week, acting US Customs and Border Protection chief Mark Morgan 
praised Mexico on Twitter
, sharing a news story about the October 12 operation to turn back the latest caravan.
"Mexico's enhanced border security efforts along their southern border continue to have a dramatic impact on this regional crisis," he wrote. "I just returned from Mexico where we had collaborative discussions on stemming the flow of illegal migration throughout the region."
Not everyone is praising the increased collaboration.
The recent video of the National Guard's response to the caravan of migrants from Central America and Africa drew backlash on social media.
In a 
recent New York Times column 
— headlined "Mexico is the wall" — Univision anchor Jorge Ramos noted that Trump's comments that he was "using Mexico" had riled many Mexicans.
"It's true: President Trump is using Mexico. And, against all logic, Mexico is letting him get away with it," he wrote. "This has to change."
Thousands of troops deployed
Asked to respond to claims that Mexico is effectively paying for the wall Trump wanted, foreign ministry spokesman Roberto Velasco told CNN that migration flows have notably decreased in recent months, and that efforts continue for a regional development plan to address the root causes of migration in Mexico, El Salvador, Guatemala and Honduras.
"The number of migrants presented before Mexican authorities has decreased by 70% from June to September," he said.
López Obrador has said he had no choice but to negotiate.
"We represent our country with dignity, and we have nothing to be ashamed of," 
he said in September
. "The sovereignty of Mexico is defended. At the same time, we do not want confrontation. We have a frank, open hand extended to all the governments of the world, and we embrace all the peoples of the world, and we are especially interested in a good relationship with the United States."
Nearly 15,000 troops are deployed to Mexico's northern border, where they've set up 20 checkpoints, Mexican Defense Minister Luis Cresencio Sandoval said last week at a press briefing on the country's security strategy. At the southern border, 12,000 troops are deployed and have set up 21 checkpoints.
Military helicopters regularly conduct aerial reconnaissance in both border regions, he said. So far, Cresencio said, more than 60,000 migrants have been intercepted as part of the effort.
At the same press conference, officials noted that the number of migrants seeking asylum in Mexico has increased dramatically, with some 80,000 asylum applications expected by the end of this year.
'The message on the ground'
Analysts told CNN the video of efforts by Mexican authorities to block the recent caravan is a revealing window into how Mexico's shifting policies are unfolding.
"The message given is that Mexico is not interested in protecting people that are in need," says Gretchen Kuhner, director of the Institute for Women in Migration, a Mexican advocacy organization. "The message given by this general is not the official message of the government, but it explains very well what the message on the ground is."
Ana Maria Salazar, a former US deputy assistant defense secretary who's now a security analyst based in Mexico, says images of the operation illustrate concerns critics had when Mexico's National Guard was swiftly formed and deployed this year.
"This is someone who was trained to protect the national sovereignty, not someone who handles migrants. And these are the worries in forming a National Guard so hastily," she said. "You can't expect that from one day to the next, a soldier that is trained to protect the territory against enemies of the state will now be responsible for people that are trying to cross illegally into the country. These are very different missions and this is reflected in the images and what the commander says."